Vegetarian Black Bean Burger
Mona Lisa's is serving Beef Stroganoff soup, Tomato Basil Bisque and Creamy Chicken Celery today for your health and pleasure.
Sheridan's Special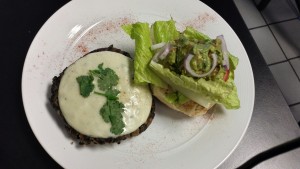 s are Shepherd's Pie and a delicious Vegetarian Black Bean Burger with Provolone Cheese, Guacamole, Red Onion, Romaine Lettuce and Chipotle Mayo.. We have Beef Brisket Panini Sandwiches, Big Fat Chicken Burritos, Chicken or Shrimp Quesadillas, Gluten-free Noodle Bowls, Organic Salads, Gluten-free Brioche for sandwiches and more!
Gelato flavors include Pineapple Upside Down Cake, Chocolate Raspberry, Dolce de Leche, Almond Cherry, Chocolate Chocolate Chip, Kit Kat, Strawberry, Blood Orange Sorbetto, Key Lime Sorbetto, Sugar-Free Chocolate and more. Our Gelato is the best ice cream in Johnson City, Tennessee!
Gelato is BOGO or half off with the purchase of any meal today when you mention this post. Smile at folks. Eat healthy!