Thai Gluten-Free Noodle Bowls
Greetings,
Mona Lisa's is serving Beef and Barley Soup, Spinach Asparagus and Old Fashioned Chicken Noodle today for your health and pleasure.
Sheridan is serving the Bo Ssam Sandwich, the Reubenator, Big Fat Pork or Chicken Burritos, T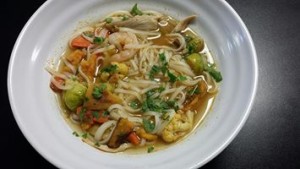 hai Gluten-Free Noodle Bowls, Died and Went to Heaven Pimento Cheese, Egg Salad, Vegetarian Panini sandwiches, Roast Beef and Swiss, Turkey and Provolone, Vegetarian Indian White Bean Burgers and much more.
Gelato flavors include Blueberry Muffin, Banana Split, Almond Joy, Snickers, Chocolate Royale, Cherry Gracia, European Yogurt, Mint Chip, Pink Grapefruit Sorbetto, Mango Sorbetto, Raspberry Sorbetto, Key Lime Sorbetto, Sugar-Free Chocolate and more!
Gelato is BOGO or half off with the purchase of any meal when you mention this post. Smile at folks. Eat healthy!