Roast Beef Sandwich with Caramelized Onions
Greetings,
Mona Lisa's is serving Italian Chicken Asparagus soup and Tomato Basil Bisque today.
Sheridan's Special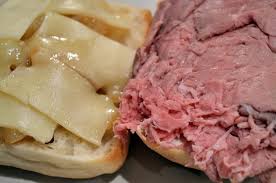 today is a Roast Beef Sandwich w/Caramelized Onions and your choice of Cheese.
We have Bo Ssam sandwiches, Big Fat Pork or Chicken Burritos, Italian Panini Sandwiches, Pesto Chicken, Vegetarian Panini, Black Forest Ham and Baby Swiss, Mesquite Smoked Turkey and Provolone and more. We have the Spring Salad w/Gulf Shrimp and Chipotle Shrimp Salad today.
Gelato flavors include Pistachio, Butterfinger, Forest Berries, Baby Bear, Cocoa, Blood Orange Sorbetto, Key Lime Sorbetto, European Yogurt, Lemon Cake, Cherry Gracia and many more!
Our delicious Gelato ice cream is BOGO or half off today with the purchase of any meal when you mention this post. Love your neighbor as you love yourself. Eat healthy!