Italian Meatloaf
Greetings,
Sheridan's Special today is her delicious Italian Meatloaf with a Side Salad and Roll.
Soups include Greek Lemon Chicken, Organic Red Lentil w/Garlic Roasted Cauliflower. It is Vegetarian! We also have Tomato Basil and Beef Stroganoff.
Come in for a Panini, a Big Fat Chicken or Pork Burrito, a Gluten-Free Thai Noodle Bowl, a Cuban Sandwich and much more.
Gelato flavors include Custard Eclair, Almond Rubble with Pistachios and Pecans, Forest Berries, Mocha Royale, Strawberry, Pistachio and so many more.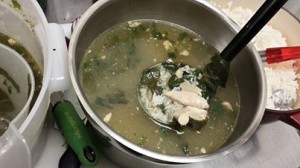 Gelato is BOGO today or half off with the purchase of any meal. Be Good to yourself. Eat healthy!