Bo Ssam Sandwich
Greetings,
Sheridan's soups today are Tomato Basil, Italian Chicken Asparagus, New England Clam Chowder and German Farmer's.
Her Specials are a Bo Ssam Sandwich and Greek Shrimp Salad.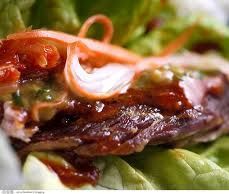 We also have Chipotle Chicken Salad, Chef's Salad, Pesto Chicken Salad, Egg Salad, Tuna Salad and Chipotle Shrimp Salad.
Gelato Flavors include Pecan Pie, Mocha Royale, Birthday Cake, European Yogurt, Vanilla Chocolate Chip, Cherry Gracia, Blood Orange, Rum Raisin and many more.
Gelato is half off today with the purchase of any meal when you mention this post. Encourage folks. Eat healthy!